Walking the Walk
Contact for this page: jphague@xtra.co.nz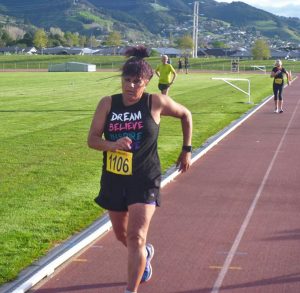 Gillian MacDougall winning her grade in the 5k at the SI Masters Games – 35.38.

WHAT'S ON THIS WEEK
Saturday 11th November, 2017
The Waka
Up the Centre of New Zealand and back along Milton Street
Start and finish the Waka, Collingwood Street
Start time: 3.45pm
Distance: 6.5k
WALKIE-TALKIE
* SUNDAYS – Free race walking coaching sessions – 10am at The Track. Next session – 12th November.
* SATURDAY 18th NOVEMBER – Rozie Robinson race walking coaching session – 11am at The Track. Your chance to meet the no 2 NZ woman racewalker.
* Honest Lawyer Hotel 5k, 6pm every Monday until Christmas – $4 entry.
* Eddyline 5k Series, Richmond, 6pm every Wednesday – $3 entry.
RECENT RESULTS:
The Turf Hotel 5k Series – Race 4 – 25 October, 2017
| | | |
| --- | --- | --- |
| | WALKERS | |
| 1 | Don Bate | 30.23 |
| 2 | Wendy Healey | 32.12 |
| 3 | Daryl Nish | 32.34 |
| 4 | Paige Gregeen | 34.51 |
| 5 | Barb Pauling | 35.32 |
| 6 | Sharon McDonald | 36.15 |
| 7 | Gwen Connor | 36.17 |
| 8 | Eileen Beattie | 36.25 |
| 9 | Kevin Edgar | 36.30 |
| 10 | Maree McNabb | 36.58 |
| 11 | Jeff Leckey | 37.40 |
| 12 | Gillian MacDougall | 38.09 |
| 13 | Pauline Miller | 38.36 |
| 14 | Claire McKenzie | 39.09 |
| 15 | Susanne McIndoe | 40.25 |
| 16 | Paddy Tarrant | 40.31 |
| 17 | Shirley Beggs | 40.48 |
| 18 | Roger Denton | 40.51 |
| 19 | Sue Mitchell | 46.30 |
| 20 | Sally Williams | 48.36 |
| 21 | Annette Denton | 48.36 |
| 22 | Katrina Goodger | 49.25 |
| 23 | Heather McNabb | 49.25 |
| 24 | Chelsea Lemon | 52.56 |
| 25 | Sharon Sellars | 52.59 |
WALK THE WALKS




SUMMER PROGRAMME 2017/18
Pub Runs are open to everyone. Times for events may change but Saturday events for Athletics Nelson seniors start at 3.45pm
NOTE: THESE ARE RACE START TIMES SO IT IS RECOMMENDED YOU ARRIVE 30mins BEFORE
November
05 The Nelson Half Saxton Field (check website) (N)