Walking the Walk
Contact for this page: jphague@xtra.co.nz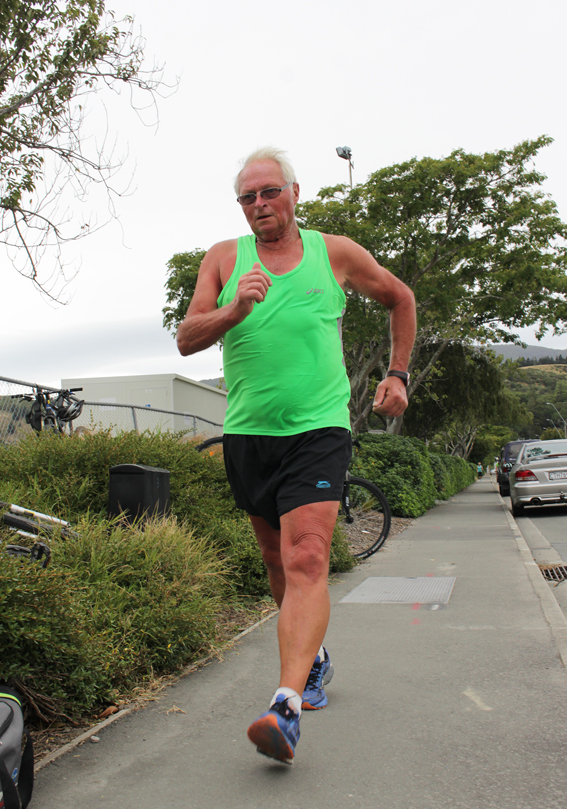 Roger Denton strides to the finish of the Turf Hotel Walk, January 2017.

WHAT'S ON THIS WEEK
Saturday 24th March, 2018
The Sands
Over the Port Hills – very scenic
Start and finish the Sands, Tahuna
Start time: 3.45pm
Distance: 7.0k
WALKIE-TALKIE
* SUNDAYS – Free race walking coaching sessions – 9am at The Track. Next session – 25th March.
* Friday 30th March (Good Friday) – 10k and 5k walks. Meet Sovereign Street next to Guppy Park and then heading along the walkway to Atawhai. 10k 2.30pm and 5k 3.00pm. $5 entry with heaps of spot prizes. Enter on the day.
* Honest Lawyer Hotel 5k, 6pm every Monday – $4 entry.
* Eddyline 5k Series, Richmond, 6pm every Wednesday – $3 entry.
RECENT RESULTS:
McCashin's Beer Week Run – Saturday 17th March 2018
WALKERS
1
Daryl Nish
48.19
2
John Llewellin
55.48
3
Gillian MacDougall
57.06
4
Elaine Llewellin
57.59
5
Paddy Tarrant
61.46
6
Susanne McIndoe
64.50
7
Katrina Goodger
73.33
8
Shaun Trengrove
73.48
9
Shirley Beggs
74.08
10
Gretchen Rasch
74.08
11
Heather McNabb
74.30
12
Colin Tasker
74.30
13
Wendy Brewerton
81.33
14
Sharon McDonald
81.34
15
Aleisha Copeland
90.55
16
Madeleine Tear
90.56
17
John Tear
92.17
18
Ava Tear
107.09
19
Grace Tear
107.10
WALK THE WALKS




SUMMER PROGRAMME 2017/18
Pub Runs are open to everyone. Times for events may change but Saturday events for Athletics Nelson seniors start at 3.45pm
NOTE: THESE ARE RACE START TIMES SO IT IS RECOMMENDED YOU ARRIVE 30mins BEFORE
MARCH 2018
24 R The Sands (Port Hills) 4.00pm
30 R Easter Friday 5 & 10km ($5 entry fee) 2.30pm/3.00pm
APRIL 2018
04 R Turf Hotel Autumn 5km Series 6.00pm
07 R Sprig & Fern Tahuna (Tahuna) 4.00pm
08 MR Mt Campbell Mountain Run 10.00am
11 R Turf Hotel Autumn 5km Series 6.00pm
14 R Prince Albert (Tangragee/Maitai 11km) 4.00pm
18 R Turf Hotel Autumn 5km Series 6.00pm
25 R Spooners Tunnel Belgrove (check website)
MAY 2018
13 MR Takaka Hill Race 9.15am