Walking the Walk
Contact for this page: jphague@xtra.co.nz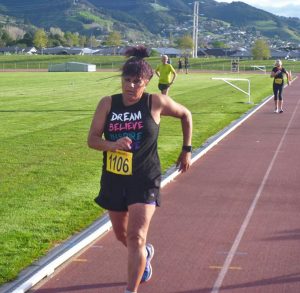 Gillian MacDougall winning her grade in the 5k at the SI Masters Games – 35.38.

WHAT'S ON THIS WEEK
Sunday 24th June, 2018
Monaco Mid-Winter Marathon
Individual marathon, 2 person or 6 person teams
Start and finish the Honest Lawyer
Start time: 8am
Distance: 42.2k
WALKIE-TALKIE
* SUNDAYS – Free race walking coaching sessions – 10am at The Track. Next session – 24th June.
* WEDNESDAYS – Ocean Lodge Winter 5k Series, 6pm during July – reflectors and/or lights must be worn.
RECENT RESULTS:
The Beach Cafe – 16th June 2018
1 Peter Hague 28.00
2 Jim Kearse 30.12
3 Daryl Nish 30.14
4 Susanne McIndoe 30.18
5 Paddy Tarrant 30.25
6 Rob Taylor 33.46
7 Heather McNabb 33.53
WALK THE WALKS




WINTER PROGRAMME 2018
Events organised by Athletics Nelson. These events are also open to Waimea Harriers members. Times for events may change but Saturday events for Athletics Nelson seniors start at 2.30pm
NOTE: THESE ARE RACE START TIMES SO IT IS RECOMMENDED YOU ARRIVE 30mins BEFORE
June
24 Mid Winter Marathon & Relay – Monaco
30 Wallace Shield 3 – Rabbit Island (W)
July
01 Wellington Full & Half Marathon
04 Ocean Lodge 5km (N)
07 Parker Shield – Happy Valley (N)
11 Ocean Lodge 5km (N)
14 Dovedale Hill Climb – Wakefield (W)
18 Ocean Lodge 5km (N)
21 Tasman & Club XC – Branford Park (N)
22 Able Tasman – Andrew Barker
25 Ocean Lodge 5km (N)
28 Sprig and Fern 10km – Motueka (W)
August
04 Presidents Trophy – Branford Park (N)
11 2 Person Relay – Washbourn Gardens (W)
18 Swan Trophy/Road Champs 10km – Branford Park (N)
19 Woodbourne Half Marathon
25 Snowden's Bush – Brightwater (W)
September
01 2 Person Relay – Parkers Cove (N)
02 NZ Road Champs
08 Motueka Mapua relay – Motueka (W)
15 Queen Charlotte Relay – Picton
22 Bayview Run – Sprig & Fern Milton St (W)
29 Sprig & Fern 10km – Brightwater (W)
October
03 Turf Hotel 5km Spring Series (N)
06 Dam Run – Maitai Dam (N)
06 NZ Road Relay – Christchurch
10 Turf Hotel 5km Spring Series (N)
13 Richmond Hills – Washbourn Gardens (W)
17 Turf Hotel 5km Spring Series (N)
20 OK Corral – Brook Street (N)
24 Turf Hotel 5km Spring Series (N)
27 Sprig & Fern 10km – Brightwater (W)
28 Auckland Full & Half Marathon
November
04 The Nelson Half – Saxton Field (check website) (N)
17 Molesworth Relay